This week, David continues reading excerpts from his soon to be released book. Whose Future Are You Financing? What The Government And Wall Street Don't Want You To Know.  To download the first few chapters of the book, go HERE.
David will be hosting The Dave Elswick show on Thursday the 27th  from 2-6pm on KARN 102.9FM (Central AR) or live online at: IheartRadio.com  and search for KARN.
David talks about his upcoming show that will air on 07/13/2013  from 1pm till 3pm. David will team up with Steven Blackwood on his "Beyond The Box" radio show which airs at 1pm. Then, Steven will hang around and be on David's show. Stay tuned for more details…
If you want to listen to the show David did on The book, Feel The Fear and Do It Anyway! You can listen to that HERE
David talks about mortgage planning and the unveiling of his new proprietary software that simply did not exist before now in the financial industry. The software will show you how to pay off your mortgage in half the time or less and at the same time recapture the entire cost of the home.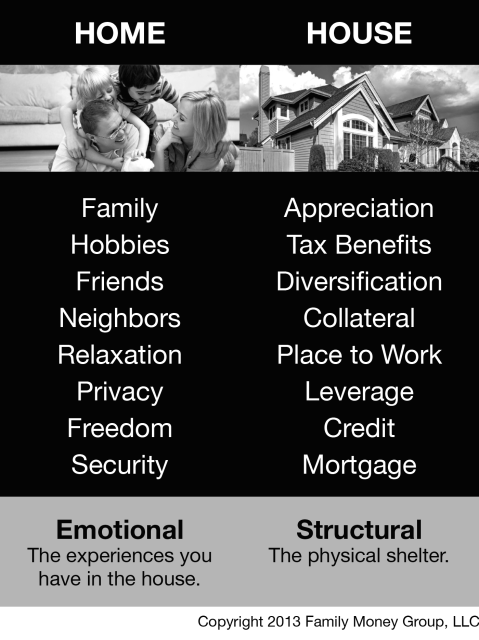 How much thought do you give to managing your mortgage? It is very important that you separate your HOUSE  from your HOME. (See chart to the right) Items related to your HOME should NEVER be factored in how you decide to manage your home equity. Very few people understand how to prudently manage their home equity. Many people think that paying extra principal payments directly towards their mortgage balance is a wise financial choice. This mistake can cost you hundreds of thousands of dollars.  You can be mortgage free early and at the exact same time have accumulated a substantial amount of tax-free savings.
If you pay extra principal payments directly towards your mortgage balance after you pay it off, all you are left with his a mortgage free house. What if you could pay off your mortgage early, and at the exact same time, have a substantial tax-free savings? This is all accomplished utilizing a properly structured cash value life insurance policy. SEE: Look What The Wealthy Are Doing to learn more. Also listen to David interview the leading Austrian Economist Dr. Bob Murphy on his book How Privatized Banking Really Works, Integrating the Infinite Banking Concept with Austrian Economics. David has developed a mortgage payoff calculator which shows you how to implement this strategy in your specific situation.
Also Listen to David interview Lee Welfel, Author of The Mortgage Book

If you would like to learn more about these advanced mortgage planning strategies, David can be reached at 501-218-880 or David@DavidLukasFinancial.com.  David is an Authorized Practioner through the Infinite Banking Institute. 
Tune in, Learn something and have a little fun!