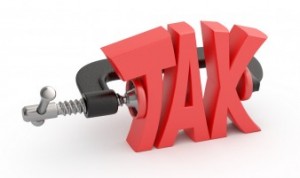 We are all familiar with the saying about the two things in life that are a certainty.  Death and Taxes.  While we have little to no control over the former, we can and should be proactive about the latter (taxes).
How many pages does it take to fully document the U.S. tax code as it stands in 2012? If you answered 73,608, you're right. Note that we didn't say "you win"!… In light of this fact, more than ever, it's imperative for the individual and business owner to be proactive about this all important topic.
This week David is joined by Deron Hamilton who is the owner of My CPA, LLC in Little Rock, AR.
David and Deron discuss many of the upcoming changes that are taking place in regards to taxation. One thing is for sure, itemized deductions are in the cross hairs of the IRS.
Some of the topics discussed include:
Major changes in the tax code that will affect individual tax payers.
The importance of planning, by selecting the right business entity.
The importance of proper documentation.
Strategies to reduce your tax liability.
The bottom line is that there is a big difference between tax avoidance and tax evasion. It is not the IRS's responsibility to educate you on all of the provisions in the tax code that allow you to avoid paying one dollar more in taxes that you are required to pay.
The two largest wealth transfers are your mortgage and taxes. A dollar in taxes paid unnecessarily not only cost you what you lost, but also what what that dollar could have earned had you not gave it away. To learn more, read and listen to the past show: Who's Future Are You Financing?
There are many options to drastically reduce one's tax-liability. Including strategies that will help you:
Be more efficient with your dollars by implementing a tax-free retirement income source. There are many tax-free asset accumulation strategies that are outside of most people's box of knowledge. If you would like to learn more, contact our sponsor David Lukas Financial at: 501-218-8880 or online at: DavidLukasFinancial.com 
Deron Hamilton with My CPA, LLC can be reached at: 501-661-1820
Remember, you can always listen on the go by downloading The Free David Lukas Show Android or Iphone App. An easy way to do so is to Text "DLSHOW" to 90210 from your smart phone. When you do, we will immediately send you a link to download  either the Iphone or the Android version.
Tune in, Listen and Learn!