"Our personalities are made up of physical, mental, emotional, and spiritual components. They're molded and colored and given intricacies by our upbringing, our experiences, our fears, our passions, and our observations of the world. What I am calling your "Financial Personality" is just one aspect of who you are."

– Tony Walker, author & creator of  The 3 Personalities of Money®
On this installment of the David Lukas Show, David first addresses the three types of financial personalities and how important it is to know what yours is and why. David also explains how your personality influences how you feel and deal with your money.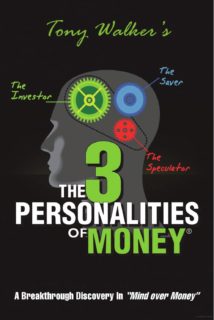 So what, specifically, are The 3 Personalities Of Money® you ask?
Speculator– A speculator is a trader who approaches the financial markets intending to make a money by buying low and selling high (or higher), not necessarily in that order. The speculator is distinguished from the investor, who approaches the financial markets with the intention of making a return on his capital.
Investor– An investor allocates capital expecting a positive future financial return. Investors approach the financial markets with the expectations of making a return on his capital.
Saver– A Saver is someone who does not like risk. A Saver personality is someone who is concerned more with the return "of" their money, than on it. For instance, whereas an INVESTOR or SPECULATOR may be fine with researching (and accepting) the ups-and-downs of the stock market, a SAVER is not.
Do you know what your financial personality is? If you're a saver, you've got to understand your personality before you can appropriately make decisions concerning your retirement. Not sure where you stand? Take the test NOW.
---
Biblical theme of today's show: With faith in God, the future is bright.
Ecclesiastes (NIV) 8:7, Since no one knows the future, who can tell someone else what is to come?
Luke (NIV) 17:24, For the Son of Man in his day will be like the lightning, which flashes and lights up the sky from one end to the other.
---
Did you know that the Official David Lukas Show Android App, Iphone App and Windows App are available and FREE!!! You can listen to the archived shows on demand, take advantage of valuable information and bonus content.
---
Want to know more about how David Lukas Financial can help you put a safe and secure game plan together that you can count on? —call all David Lukas, (501) 218-8880, today to learn more about The WorryFree Retirement® process. Remember, there's never a fee or obligation to meet with David.