"Keep an eye on the stock market from August 1 through October 31. If stocks go up during that three month stretch, expect Clinton to win. If stocks slide, Trump will likely prevail." —Via Heather Long, CNN.com
This week on the dlshowonline.com, David first speculates on all the talk surrounding how the Stock Market is predicting who our next president will be. Apparently, if the market is good, Hillary wins. And if the market takes a hit, Trump prevails.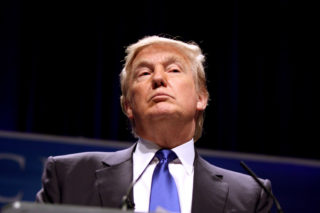 During the hour, our host speaks and expands upon the importance of a well diversified portfolio and how Savers, like you, can predict their own happy future by securing themselves a WorryFree Retirement.
Important topics discussed in this episode:
Products that are more secure compared to the products that are high risk to market volatility
Know what products you have and why you have them
It is possible to achieve the same return with less risky investments
Index Funds that truly pay off
The importance of second opinions
Want to know what risks David Lukas Financial can alleviate from your retirement portfolio? Call David, at (501) 218-8880, and set up your Free NO COST appointment today. You won't be sorry you did.
*David Lukas Financial is conveniently located right here in North Little Rock, Arkansas.
Image by Gage Skidmore
---
Get the 2016 Social Security Benefits Guide FREE:
Listeners aged 60 or older, visit ssbenefitsguide.com to get your FREE, UP TO DATE, Social Security benefits guide for 2016.
---
The 3 Personalities of Money®:
Do you know whether you are a Saver, an Investor or a Speculator? Learn about the three distinct personalities of money and take the FREE test today at: DavidLukasFinancial.com
---
Free Annuity Decision Guide:
STILL NOT SURE WHAT ANNUITIES ARE BEST FOR YOU? Get the Annuity Decision Guide for Savers today by clicking here!