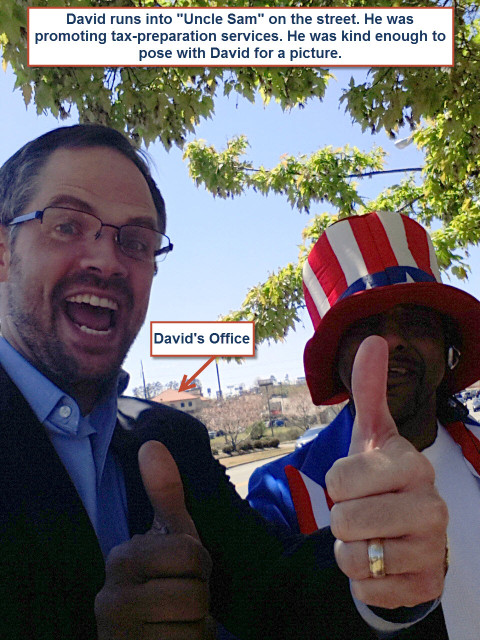 It's everyone's favorite time of year (not really). The tax deadline is upon us. The fact is that there are a large number of people who overpay their taxes simply because they aren't proactive. Part of being proactive is working with a qualified CPA.
David invited Deron Hamilton from MY CPA, LLC onto the show. Deron is a supporter of what we are doing here on The David Lukas Show.
Are you paying taxes unnecessarily? Are you working with a seasonal tax person or qualified CPA? There is a big difference between the two. Everyone is familiar with the tax companies that only prepare taxes seasonally. Just about everyone has seen "Lady Liberty" or "Uncle Sam" jumping up and down on the local street corner promoting quick tax preparations and refunds? They are everywhere during tax time. It's hard to miss them.
If you are entrusting your tax preparation to a seasonal company like this, you are more than likely missing out on legitimate tax deductions that are available to you.
Deron and David also discuss common tax-fraud tactics Including:
Claiming the American Opportunity Credit which allows people to receive a large tax credit for college expenses. Many people are claiming this credit even when they are not in school.
Deron and David talk about the earned income tax credit. (Or what David likes to call UN-Earned Tax Credit)
It's not just about taxes. A good CPA can assist you with:
Internal Controls
IRS-Audits
Audits from other state and federal agencies.
Filing Extensions
Advanced Tax Planning Strategies
Accounting. (Not just bookkeeping)
Financial Statement Analysis
Business Entity Planning
Assistance in helping a business owner compare it's profitability to other competitors in a local market.David and Deron cover allot of ground in this short broadcast.  Tune In, Listen and Learn!
Call Deron Hamilton at MY CPA, LLC to file your free extension or to take advantage of a free tax-planning  analysis. 
Deron can be reached at 501-661-1820 Deron can also be reached VIA email: dhamilton@mycpapllc.com
MY CPA, LLC is located at: 310 Natural Resources Drive Little Rock, AR 72205