On this week's episode, David talks about the many ways he and his recent partnership with Tony Walker can Help Savers Worry Less About Money®.  During last week's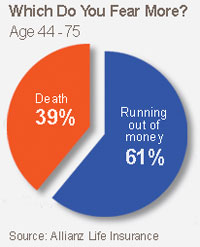 episode, David spoke about his ninety-eight, soon to be ninety-nine, year old grandmother Edna and the fact that 30 years ago, after her husband Franks death, she started to and still to this day is receiving monthly income from his retirement plan.
Frank, who started working for a Continental Baking Co. in 1953, is still providing for his wife, after death, with guaranteed Mailbox Money® that will come to her monthly, for the rest of her life.
According to a recent study and survey, 61% of Americans are more fearful of outliving their money than they are about dying.  David validates this fear in his book Who's Future are You Financing, by noting that the elderly now make up 2.7% of the U.S. population. The largest group, people between the ages of 90-94, has also grown the fastest, with an increase of 44.6% sine 1990.  This is a huge increase considering that the average life expectancy back in 1900 was around forty-seven years old.
So what's a real solution for a real problem?  First, we need a re-education on annuities. This is easily accomplished by downloading the Annuities Decision Guide. By demystifying the idea that they're too complicated to understand. The author, Tony Walker, explains how each of the four types of annuities can be advantageously applied to your retirement plan.
To learn more about how the four types of annuities can benefit you and your retirement portfolio, call David Lukas, (501) 218-8861, at David Lukas Financial. David has partnered with Tony and his WorryFree Retirement® network to help his clients implement the WorryFree Retirement® process. It's unlike anything in the industry.
What is your financial DNA? Are you a Saver, an Investor or a Speculator? Learn about the three personalities of money and take the test today at: 3Personalities.com